Lil' Creep Longbow by Great Northern Bowhunting
Lil' Creep Longbow by Great Northern Bowhunting:

The Lil' Creep is the most recent addition to the Great Northern family of bows. You have to love a bow named Lil' Creep, and you will. It was inspired by our Bushbow and includes design elements from other Great Northern bows. It was originally meant to be used in an enclosed blind, hence it's compact length. That, it turns out, was a very limited expectation for this bow. Boy howdy.
Honestly, we had no idea what an outstanding bow we would end up with in the Lil' Creep. It has surpassed our original vision and application goal in a big way. It has already become a favorite here at Great Northern and among our customers, too.
Quick to handle, quick to point, smooth as a babies....well, it's really smooth, very quiet, and delivers an arrow with authority. Don't let the length fool you; the Lil' Creep is a very stable bow at 58" in length and draws smoothly to 29".
The Lil' Creep is available with either black or brown glass.
The limb core is dark tempered bamboo with Shedua Dymondwood riser.
The limbs measure 1 3/8" wide at the fadeouts, tapered to a sleek 1/2" at the string nocks with 5" power wedges inserted in limb tips.
Available length: 58"
Recommended brace height: 6 3/4"
All Great Northern Bows are shipped in a Great Northern bow case.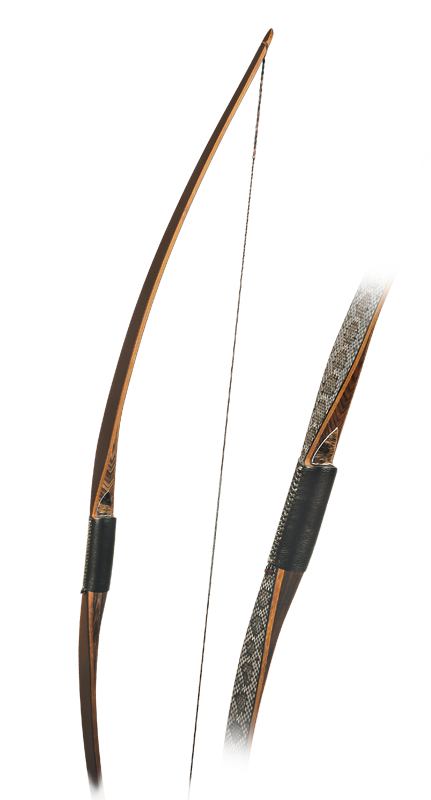 All Great Northern bows are designed with the bowhunter in mind. We refuse to sacrifice smoothness, stability, or pointability for a few more feet per second. Our bows are balanced and make fine hunting partners.
Through the years Great Northern bows have evolved into efficient hunting weapons. From our longer Traditional Longbow, to the more recent and compact Lil' Creep - each and every one is hand crafted with meticulous attention to detail and built to last a lifetime, or two.
We take a lot of pride in our work and we hope you'll agree that it shows. Our best recommendations come from bowhunters already shooting our bows. We're not comfortable bragging on ourselves, it's not in our nature, so we invite you to try one of our bows today - and see for yourself.
Note: There is a 300.00 non-refundable deposit required on all bow orders.