Traditional Longbow by Great Northern Bowhunting
Traditional Longbow by Great Northern Bowhunting

Our Traditional Longbow is Great Northern's original offering. Our Traditional longbow has unequaled stability and the smoothness of draw expected in a well crafted longbow. With a sleek, narrow limb core which is slightly set back, 1 1/8" wide at the fadeouts and 9/16" at the string nocks, this is an elegant and refined longbow.
Customers who enjoy shooting straight limb, deep cored longbows claim that the performance and manners of our Traditional Longbow surpasses most other longbows of this type. The riser is 15" long and measures 4 3/4" around the leather handle wrap.
The Traditional Longbow's performance is enhanced by the precise trapezoid cross section of the limbs, reducing limb mass, eliminating hand shock and increasing arrow speed. We are pleased to announce that, as a further enhancement of performance and appearance of our Traditional Longbow, we have replaced tip overlays with limb power wedges.
Our Traditional Longbow limbs are available in your choice of red elm, osage, hickory or bamboo.
Riser woods are available in your choice from our Dymondwood range. Tip wedges will match riser wood.
Available lengths: 66" and 68".
Recommended brace height: 6 3/4".
All Great Northern Bows are shipped in a Great Northern bow case.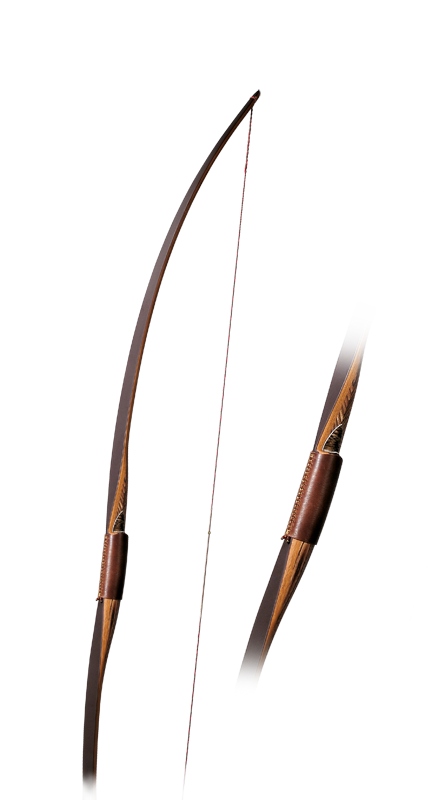 All Great Northern bows are designed with the bowhunter in mind. We refuse to sacrifice smoothness, stability, or pointability for a few more feet per second. Our bows are balanced and make fine hunting partners.
Through the years Great Northern bows have evolved into efficient hunting weapons. From our longer Traditional Longbow, to the more recent and compact Lil' Creep - each and every one is hand crafted with meticulous attention to detail and built to last a lifetime, or two.
We take a lot of pride in our work and we hope you'll agree that it shows. Our best recommendations come from bowhunters already shooting our bows. We're not comfortable bragging on ourselves, it's not in our nature, so we invite you to try one of our bows today - and see for yourself.
Note: There is a 300.00 non-refundable deposit required on all bow orders.